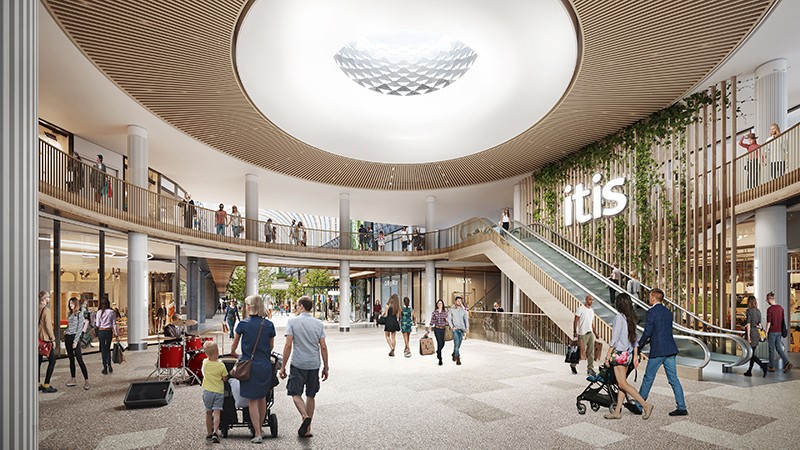 International sportswear brand Nike has chosen Itis shopping centre in east Helsinki as one of the Finnish market entry locations for its Nike Live concept store.
Nike Live is a members-only, multichannel concept, designed as a "neighbourhood home" with services and events tailored to local customers to drive greater engagement. Launched in Los Angeles in 2018, the concept is being rolled out globally, with the Itis store as one of three Nike Live locations planned for Finland.
The new Nike Live store will be situated in a prime 600 sqm corner unit within the Bulevardi area of Itis – which is currently being rejuvenated under the first phase of a €60 million refurbishment – when it opens in November 2023.
Markus Brugger, Director Asset Management, CC Real, which co-owns and asset manages Itis, said: "Nike's choice of Itis as one of the first locations for its first 'Live' store in Finland not only highlights its position as the 'must visit' shopping centre in Helsinki, but also underlines the importance of the refurbishment programme we are currently undertaking. A concept such as Nike Live demands a high-quality location that can help it meet the community elements of its offer, and as such it is great to see our investments at Itis delivering space that meets these requirements."
The new Nike Live store is part of over 10,000 sqm of new leases signed by new occupiers attracted by the ongoing work to revitalise the destination, with a further 10,000 sqm of lettings under negotiation. New arrivals include a New Yorker flagship, a Power Finland concept – operating under the Power+ brand – Kropp, Sinsay and Mosa, alongside several local entrepreneurs.
Also opening is Sirkus Magenta, a circus school focused on community development. Founded in 2011, Sirkus Magenta organises social circus activities for people with special needs, recreational activities and associated activities, designed to strengthen mental and physical well-being. Sirkus Magenta is a great example of Itis' integration into the community, working for and with local people to drive social benefit.
Phase one of the refurbishment – updating the 14,300 sqm Bulevardi Avenue to further enhance one of the longest shopping 'streets' in the Nordics – began in late 2022 and is due to complete in November 2023. Phase two – which includes the activation of the communal Tallinn Square, reviving the circular Rotunda intersection and upgrading the Pasaasi area – is expected to finish in 2024. Works are focused on upgrading common areas and shop frontages, interventions to enhance customer flow and investment into energy efficiency initiatives.
Markus Brugger added: "Our strategy for Itis is centred around its position as a vibrant shopping and social hub for eastern Helsinki, and this refurbishment is focused on further enhancing its offer to customers and retailers alike. The revitalisation upgrades we are undertaking are attracting new brands, formats and concepts to Itis, cementing its iconic role as Finland's leading destination."
First opened in 1984, Itis is among the largest shopping centres in the country covering more than 101,000 sqm of space with over 120 stores in addition to 40 restaurants and cafes – as well as Finland's first and only IMAX cinema. The iconic destination and community hub attracts over 18 million visitors per year and is Helsinki's only carbon net-zero shopping centre, having been rated BREEAM 'Excellent' and awarded a Shore Certified Gold accreditation.