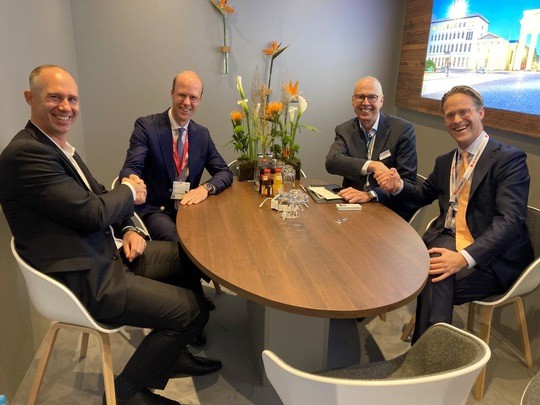 At this year's EXPO Real, Helaba and its customer Altaal closed a deal to acquire an office building with the financing of €40 million. This transaction brings the total loan amount provided by Helaba to Altaal and its brown-to-green platform, Colony, to €128 million spanning four buildings. Today, Colony is 100 percent environmentally certified with tier-1 tenants throughout the entire portfolio.
The additional building "Pilot" is located approx. 500 metres from the terminal of Helsinki Airport. Pilot boasts a leasable area of almost 19,000 sqm over 7 floors along with close to 1,300 parking spaces. It offers spacious floors of around 3,000 sqm as well as a number of amenities, including an intercompany restaurant, an auditorium, meeting rooms, a gym and a rooftop sauna. As a dark green property, it holds LEED Platinum and EPC grade A certifications.
Helsinki Airport is Finland's primary international gateway and part of Aviapolis, the second-largest business hub in Finland hosting over 41,000 workplaces and more than 600 international companies. As one of the best and most ideally situated properties in the Aviapolis conurbation, Pilot benefits from excellent public transport connections with a 30-minute link to Helsinki's CBD by train, while access by car is provided by ring road III and highway 45. In addition, the City Council have taken a decision to develop a light railway station adjacent to the Pilot entrance, which is planned to be finished in 2028.
Lars Hegg, Head of Real Estate Finance Nordics at Helaba, commented: "We are pleased and grateful that Altaal has entrusted us with this additional financing. At Helaba, we stand for relationship banking and are delighted to further strengthen and expand our customer relationship with Altaal. Through its office strategy Colony, Altaal focuses on green and brown-to-green strategies which is a perfect fit with Helaba's focus on green financing. Helaba is happy to be at Altaal's side and grow together in the Nordics, which is a key market for us."
Altaal is a Nordic investment firm for alternatives operating through private market platforms built on knowledge and societal changes. The firm focuses on real assets with inflation-hedged income coupled with positive ESG impact potential.
Stefan Gattberg, Co-founder at Altaal and chairman of Colony, added: "The strong partnership we have developed with Helaba as a long-term financing partner is very important to us. We appreciate them being a true supporter of our ambitious brown-to-green strategy. Pilot is a value-adding complement to our unique green hybrid office strategy. Helsinki as a market continues to show fundamental strength in terms of political prudence, land-lord stability and rent affordability which we believe are key factors in the current market."