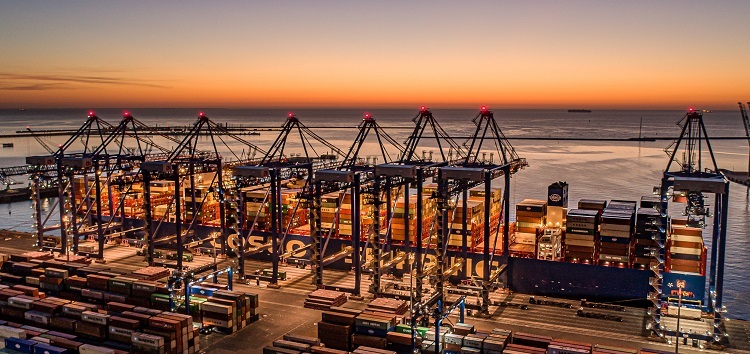 The European Bank for Reconstruction and Development (EBRD) has joined a group of banks that will finance the construction of a third deep-water container terminal in Poland's port of Gdansk on the Baltic Sea.
The €100 million EBRD loan is part of an €863.5 million financing package put together by a group of local and international lenders for Polish firm DCT Gdansk and its parent company, Baltic Hub.
The senior loan, based on environmental, social and governance (ESG) key performance indicators (KPIs), will be used to finance the construction of a new Terminal 3 in the Port of Gdansk and to upgrade Terminals 1 and 2 and other facilities. Terminal 3 will add 717 metres of deep-water quay and 36 hectares of yard area and be equipped in the first phase with 7 energy-efficient ship-to-shore cranes and 20 semi-automated rail-mounted gantry cranes.
Gdansk is the only deep-water terminal port in Poland and the only port in the Baltic Sea able to receive ultra-large container vessels (ULCVs) of 24,000 twenty-foot equivalent units (TEUs), which handle shipments between Europe and Asia. A new terminal will facilitate more trade in fast-moving consumer goods, machinery and electronics between the two continents.
Moreover, it is the most easterly ice-free, year-round, deep-sea port in Europe. The port also handles short sea shipments from ports across the whole Baltic region, from Finland to Latvia, and rail shipments from countries not only in the Baltic region but further south, from the Czech Republic to Ukraine. It is currently experiencing high demand, with two existing terminals operating near full capacity.
Nandita Parshad, EBRD Managing Director for Sustainable Infrastructure, said: "DCT Gdansk is one of the fastest-growing ports in Europe, and will become one of Europe's 10 largest ports by shipped volume of goods after the completion of this project. Its deep-sea terminals connect the Baltic Sea countries – including Scandinavia – with trade partners in Asia, but the port is also connected with a vast region in northern, central and eastern Europe through a system of rail and waterway links. Global events of the past few years have demonstrated the crucial role logistics plays in economic security, and we are proud to have contributed to smoother trade in this large part of Europe."
The first ships are expected to be received in Terminal 3 by the end of 2024, with full completion scheduled for 2025. The first stage of the expansion aims to add 1.5 million TEUs of capacity, up from the current 2.9 million TEUs, increasing the port's total handling capacity by nearly 50 percent by 2025. One ULCV can carry more than 18,000 TEUs of cargo, compared with regular vessels, which carry 3,000-10,000 TEUs, so using ultra-large ships should lower emissions from trade.
The construction and modernisation will incorporate the latest energy-efficient technologies. This is the EBRD's third engagement with DCT Gdansk. In 2014, the Bank lent it €31 million to build Terminal 2 and, in 2019, it supported the company's expansion through the acquisition by new shareholders with a €46.25 million loan.
Since it started operating in Poland more than 30 years ago, the EBRD has invested nearly €12 billion in the country.